Emily Cartridge is a 12 year-old, female cat who debuted in The New fanfiction. She is somewhat a hero, well known for saving Gumball Watterson and Penny in the Emily's Weirdness Adventure saga.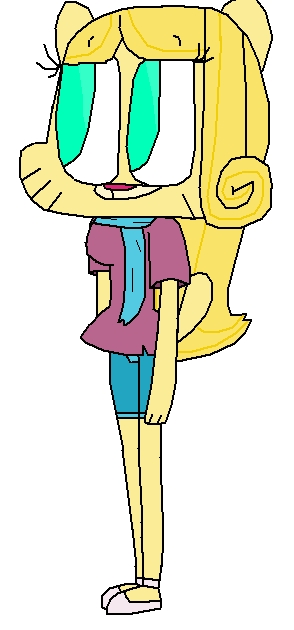 Relationships
Edit
Gumball Watterson
Emily's ex-boyfriend. They would rather have a situation that they have done it in a future episode.
Anais Watterson
Emily's first friend after grade school. They first meet in Delmore Junior High. They did maintain more their friendship after Emily was saving the city.
She used to have her as her BFF,but she left due to expensive fees for occasions.
Penny Fitzgerald
Emily's "nemesis". Emily believes she caused her break-up with Gumball, but she like her.They apologized after the band she was in to have a victory speech.She becomes her best friend.
Stace Stuffings
Emily's second "nemesis". Emily tried to sub-due her in a fight but ended-up going to jail. Both are exact opposites of each other. Emily hates her almost as much as she hates Penny.They reconciled in "Now I See You".She reveals that she got only evil due to her evil self from the evil dimension and has escaped to color her forever(Make her like the evil one forever)and becomes best friends.
Kristen Cartridge
Emily's mother. Kristen is a strict and disciplinary mother who only wants the best for her daughter, but she takes pride in Emily's beauty. However this only makes Emily like her more, especially after she sent Sadie to jail in The Case'.
Mabel Watterson
Her childhood friend and best friend since kindergarten,she saw her in Delmore Kindergarten School while Mabel is playing the bass of Ms. Valerie,their teacher,and has greatly admired her,they became friends,until Mabel moved away to Elmore Junior High in a grade 1 class since they were 6,and never saw her again,which makes her life more miserable and lonely and forgotten her due to the happiness she has until she went to her school.
Her last name, Cartridge, is based on ink cartridges used on printers.
Emily made a (possibly important) cameo appearence in the End of Elmore saga, but it is unknown why.
She is usually positioned in the fanfictions she appears in as a half-hero.
She can play the bass guitar and the keyboard.