MeeMee is a character of The Amazing World of Gumball. She first appear in The Rich Girl takes it All and with friends like Aguilera and Penny.
Fanfiction Apperance
Edit
Note: Some pages are not in this wiki. To acces them, click on them.
The Saleswoman
The Antonio
On the episode, Sport is my lord, She good at Volleyball.
She's a worker at The Rainbow Factory.
MeeMee get injured on Review it, The Evils Watterson, and The Breakup
She watches Phineas and Ferb, Win or Don't Win, and Soul Eater.
MeeMee dosen't appear in The Refund, The Laziest, The DVD, and The Car.
Ravi doesn't really like her much.
Her birthday is May 7, reavling she's is a Monkey.
In The Breakup, She's wore a red dress for Gumball and Penny's wedding.
Based on MeeMee's Crazy Moment, She don't like Crypto very much...
As in The End of the World, she extermely hates Natalya.
Personality
Edit
MeeMee is smart and likes fashion. She's know as the Crazy fashion student in Elmore. She is very mature and always do everything. In Horror, She's can't survive very horror movies such as Cherry and allergic to berry (Not strawberry or blueberry), bees, and nuts.
She's also a hero. She's saved everyone from Masami's sweatshop on The Rich Girl takes it All by helping Aguilera baking a pie. In The Breakup, she's suffered severe vomiting and stomach pain by eating something burn.
In
The End of the World
, MeeMee got angry at Natalya for using cocaine, meth, Ecstasy, and LSD for a reason.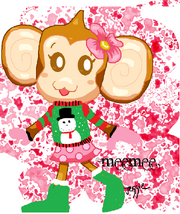 MeeMee: I was at the library reading books... (The Mystery)
___________________________________________________________________________________________
AiAi: Hey MeeMee!
MeeMee: Hey! Glad you could make it to the party...
AiAi: Yeah. Let's get some food.
MeeMee: Okay! (The Party)
Relationships
Edit
Gumball Watterson
Edit
Gumball is her friend. He always help her solve problems and save the world. As in Lost in the land, She's makes a referances to the show Phineas & Ferb.
Fireball Watterson
Edit
TBA
TBA
TBA
TBA